Digital Mobile Radio (DMR) is a digital radio standard (ETSI). The standard is designed to operate within the existing 12.5kHz channel spacing used in licenced land mobile frequency bands globally and to meet future regulatory requirements . DMR provides affordable digital systems with low complexity and offers voice, data and other supplementary services. Today, products designed to its specifications are sold in all regions of the world. The DMR protocol covers unlicensed (Tier I), licensed conventional (Tier II) and licensed trunked (Tier III) modes of operation, although in practice commercial application is today focussed on the Tier II and III licensed categories. One of the major advantages of DMR is that it is an ETSI open standard and the DMR Association administers an interoperability programme which ensures compliance to the standard. Interoperability is key to the success of DMR .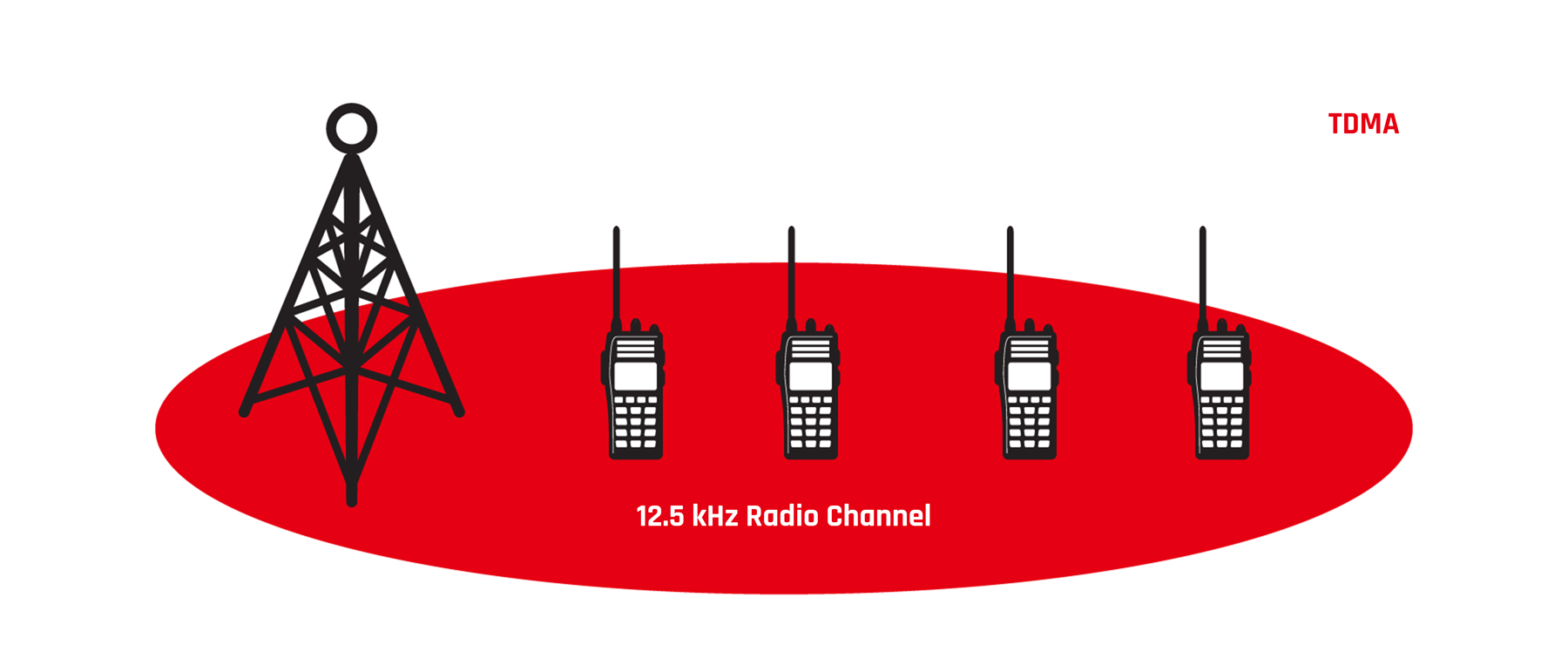 Frequency Efficiency
One of the principle benefits of DMR is that it enables a single 12.5kHz channel to support two simultaneous and independent calls. This is achieved using Time Division Multiple Access (TDMA) which retains the 12.5kHz channel width and divides it into two alternating timeslots 1 and 2 (illustrated in the figure below) where each timeslot acts as a separate and independent communication path. In the diagram Radios 1 and 3 are talking on time slot 1 and Radios 2 and 4 are talking on timeslot 2. In this arrangement each communication path is active for half of the time in 12.5 kHz of bandwidth and so each uses an equivalent bandwidth 6.25 kHz. This is known as having an efficiency of one talk path per 6.25kHz of spectrum, but with DMR the channel as a whole maintains the same profile as an analogue 12.5kHz signal.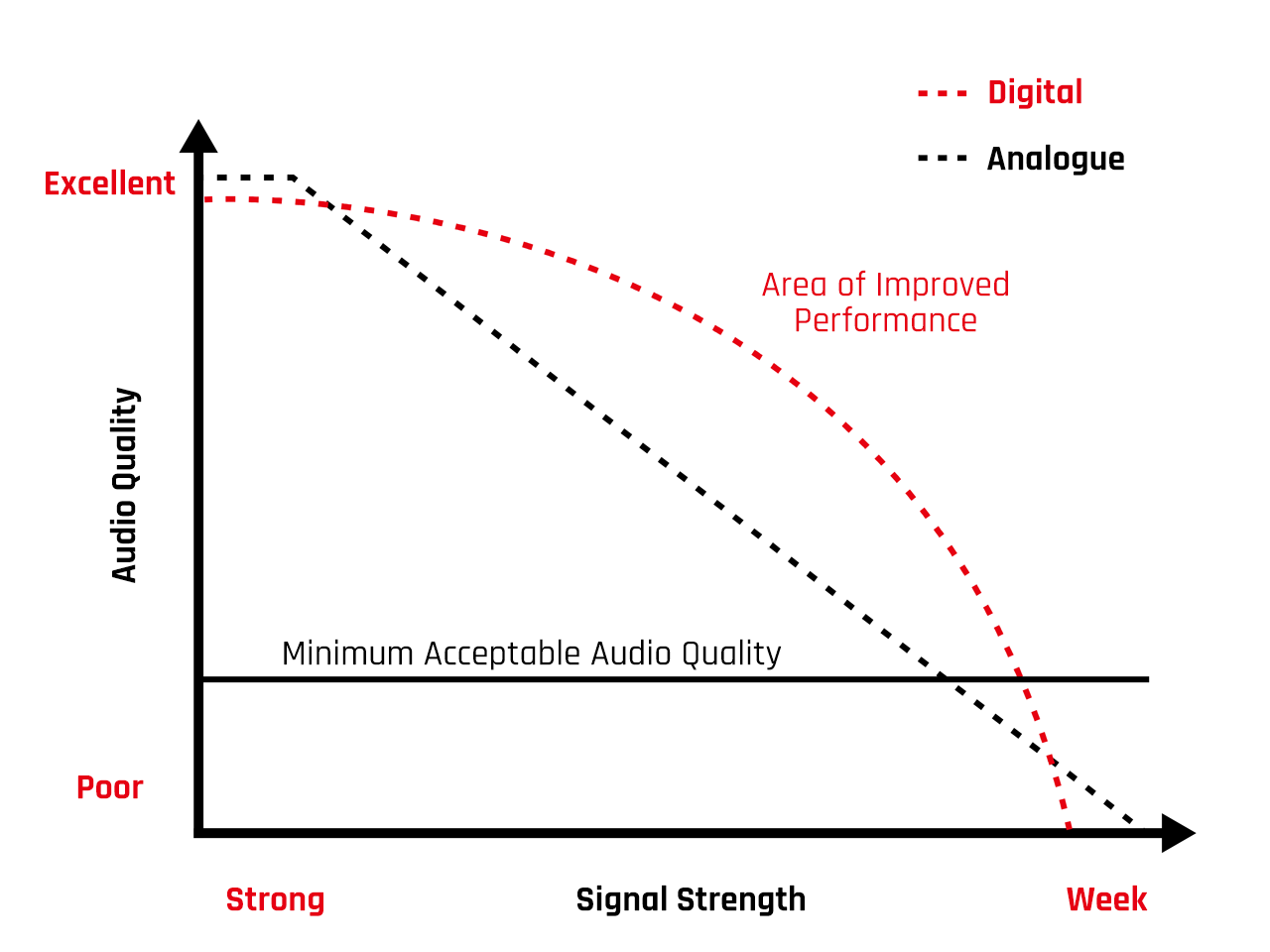 Digital Voice Quality
DMR digital technology provides better noise rejection and preserves voice quality over a greater range than analogue, especially at the farthest edges of the transmission range. One of the reasons that DMR has an excellent range performance is that a great deal of effort was put into selecting Forward Error Correction (FEC) and Cyclic Redundancy Check (CRC) coders when developing the standard. These coders enable receiving radios to detect and automatically correct transmission errors by analysing bits inserted into messages that enable the receiving radio to tell if there is an error. The DMR standard specifies over 14 different coders to be used, each matched to different types of traffic that is being transmitted. Through the use of coders and other techniques, digital processing is able to screen out noise and re-construct signals from degraded transmissions. Users can hear everything being said much more clearly – increasing the effective range of the radio solution and keeping users responsive to changing situations in the field.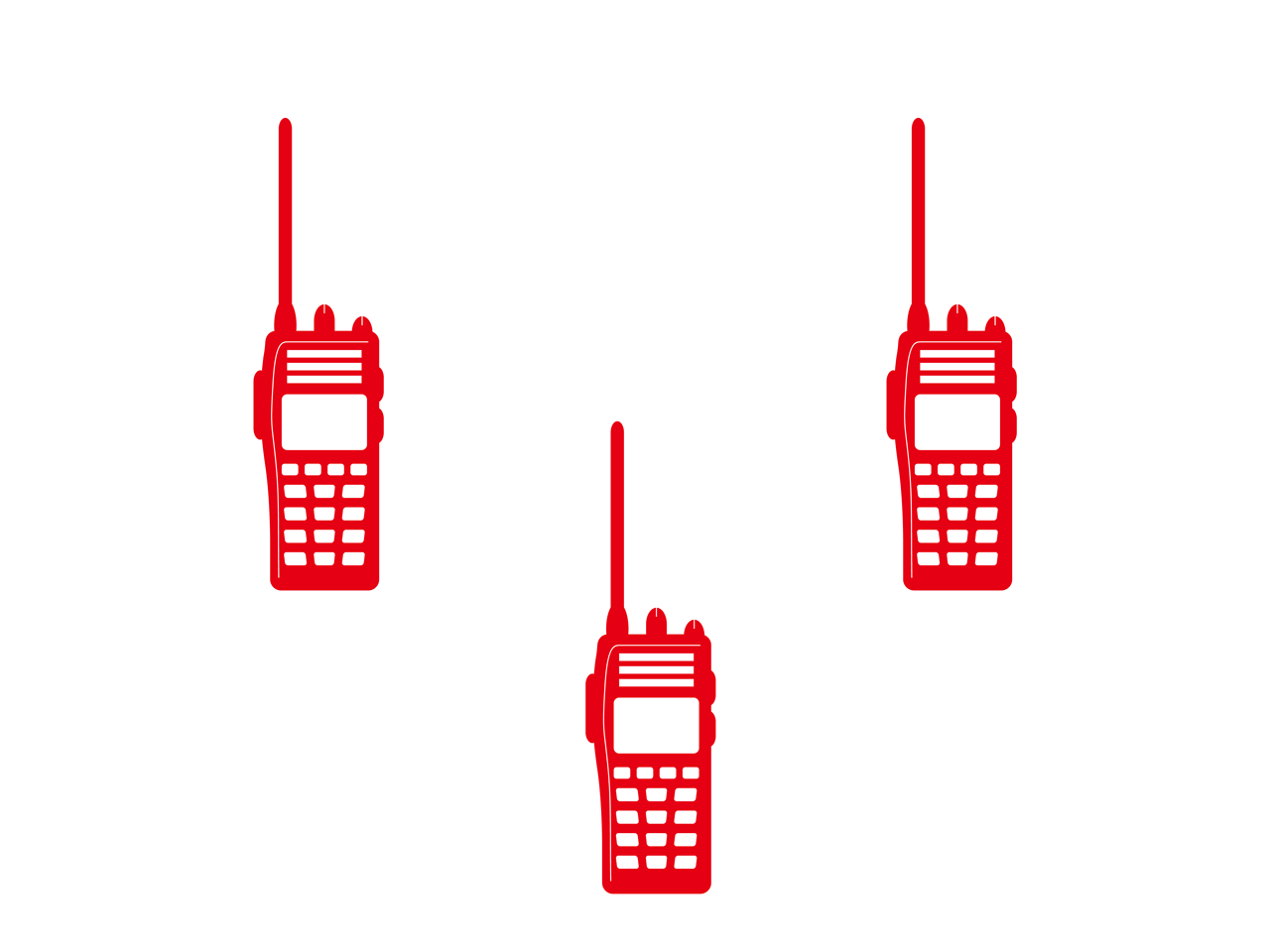 Full Duplex Telephony
The ability to offer users full duplex calls is one of the many benefits of TDMA technology. Certain user groups need to be able to connect to external standard telephony systems in a way that is completely seamless to an external user who is used to fully duplex calls.
Text Messaging & Voice Dispatch
This tool supports both data and voice operation. For data, it supports both private and group text messaging. For voice, it support private, group and all call. There are message logs for both the data and voice operation for later retrieval. Timing triggered message is also a feature embedded into this tool to enhance the usability.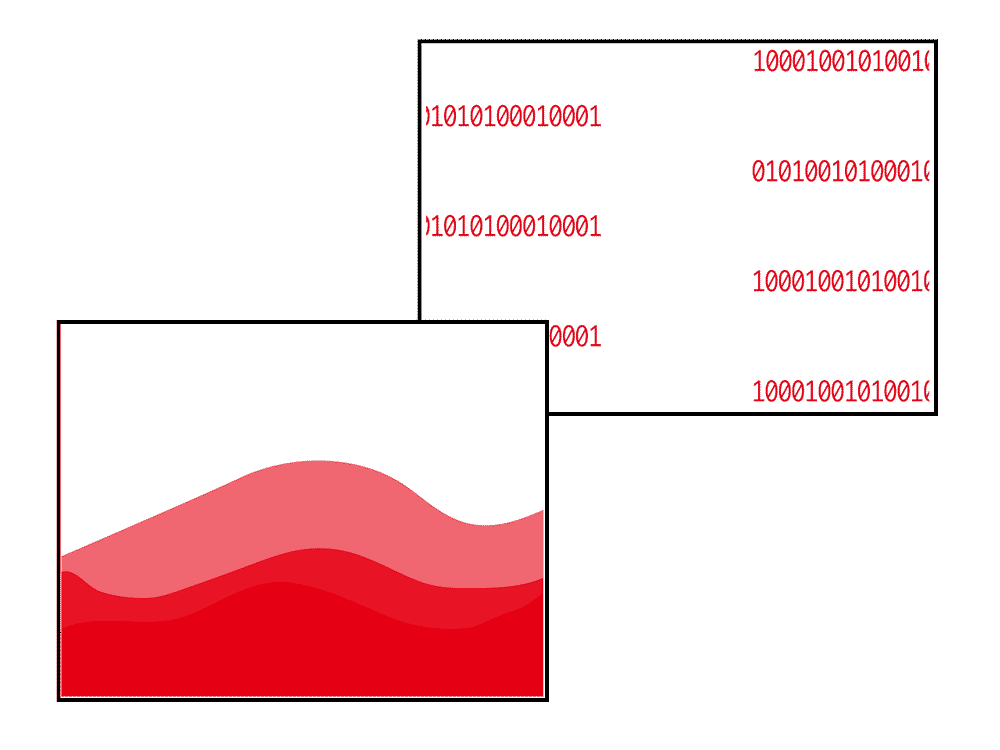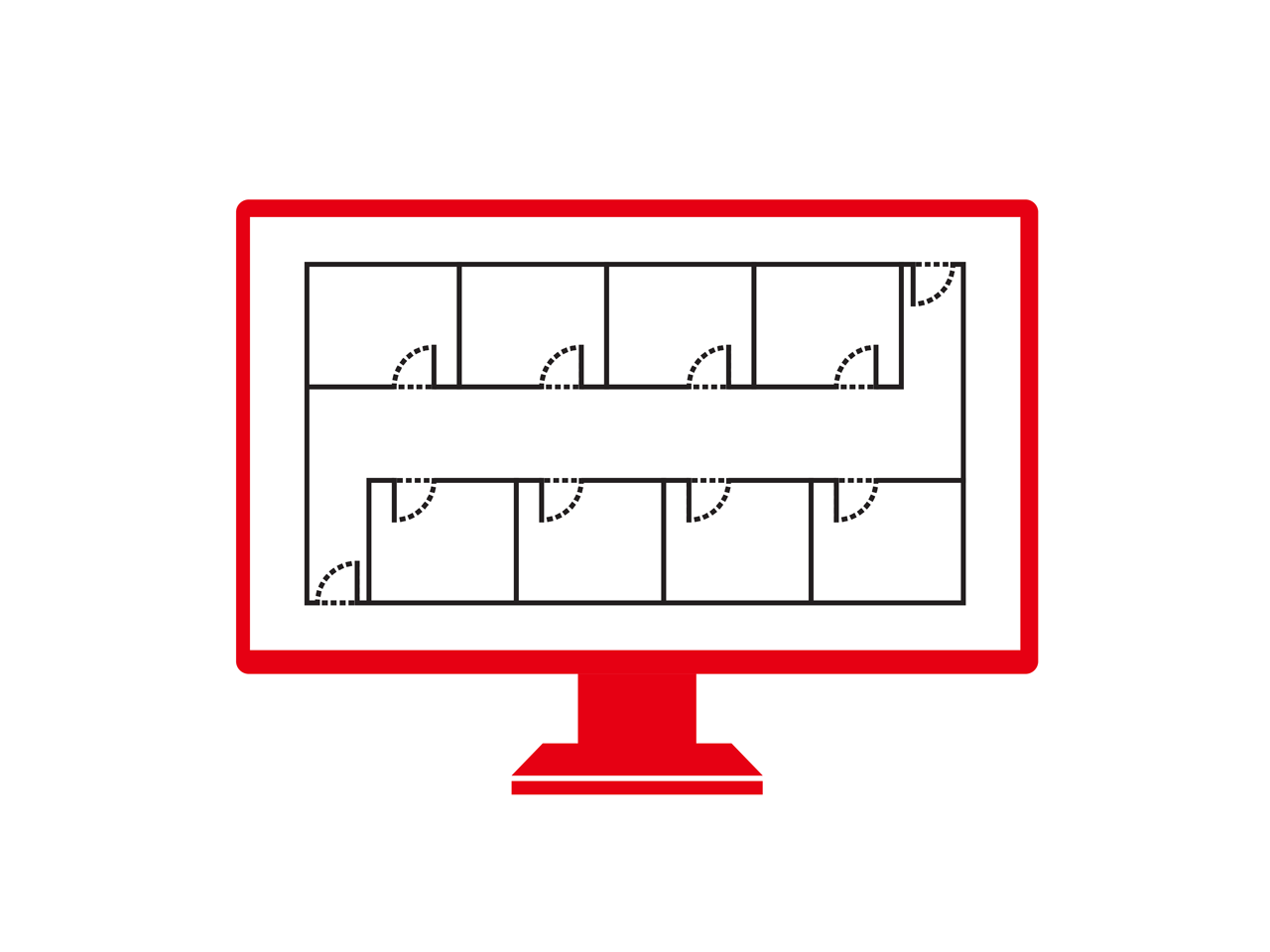 RSSI Measurement
This tool supports streaming of the RSSI value associated to the received signal. It is useful especially in the use case of RF signal strength measurement during site setup. GPS coordinate reporting is also a feature embedded into this tool to further assist the site setup personnel to know the signal strength of the downlink with a precise location coordinate.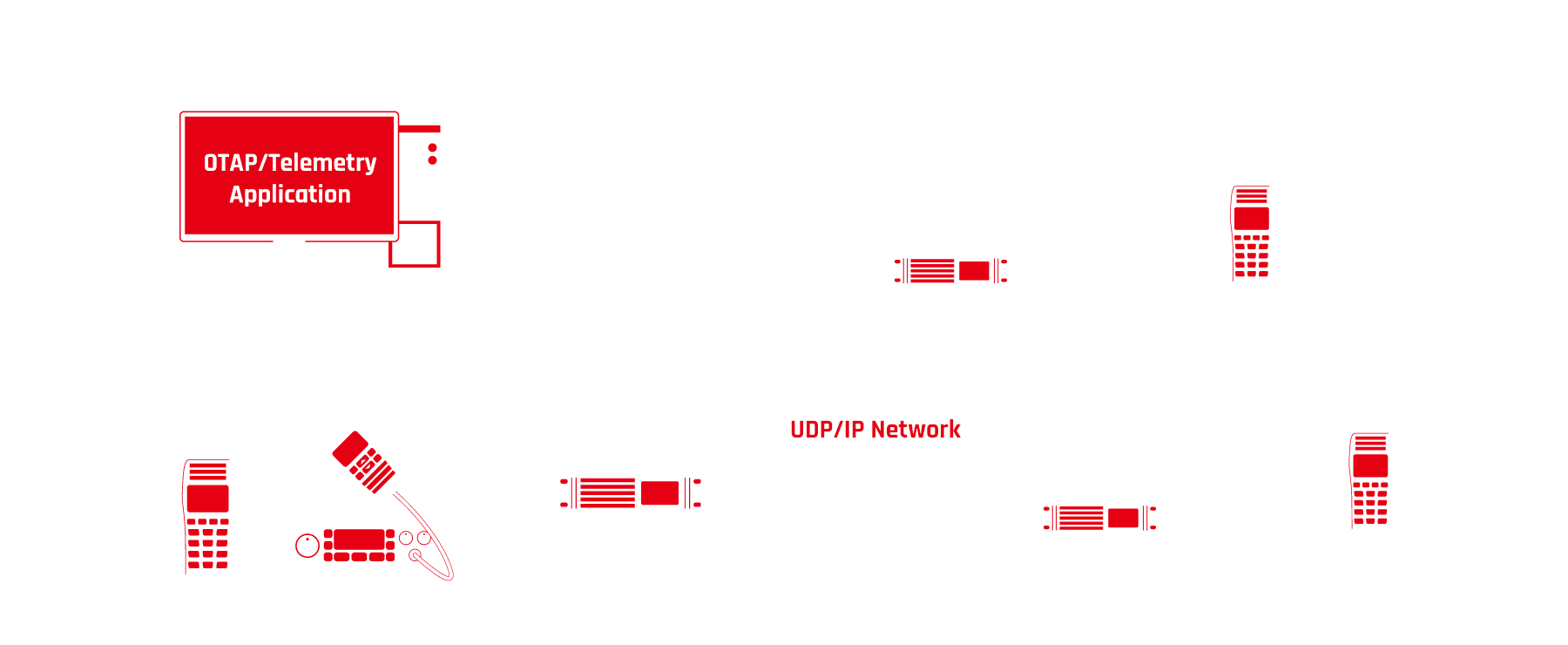 Over the Air Programming - OTAP
This tools support remote program of some of the radio parameters over the air. Only private users are being supported for now. Timing triggered OTAP command is also a feature embedded into this tool to enhance the usability.
Telemetry
Telemetry is an application based on DMR API. To expand functions, external equipments can be connected to terminal. Telemetry supports remote control and query of devices' working status by control and monitoring the terminal which external devices attached to. Telemetry only supports for the convenience of users and applications to meet the wider scene, Telemetry uses a virtual IO concept, To maintaining physical features, and also has more attributes and functions.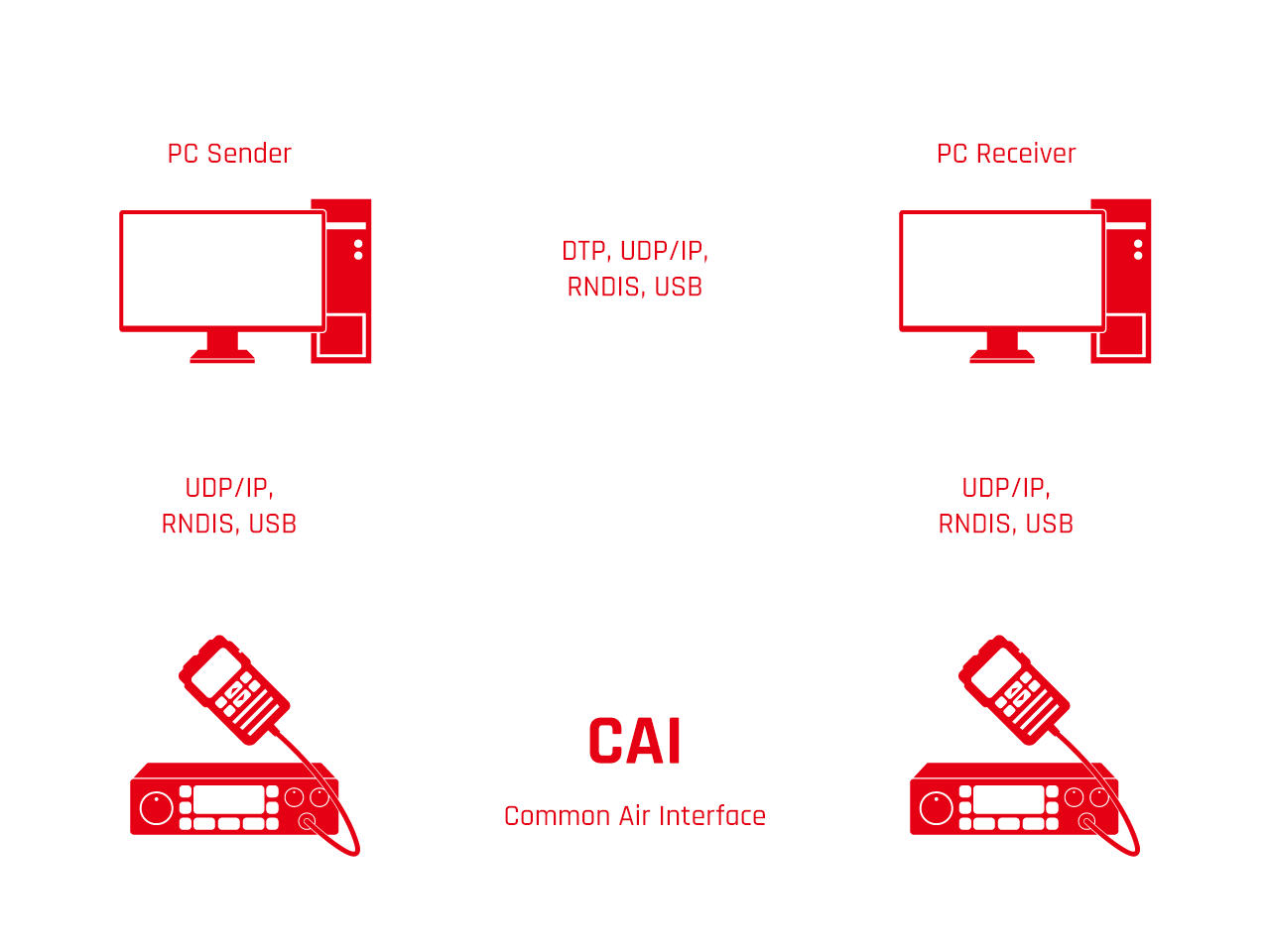 Data Transfer
Data Transfer is an application based on DMR API. The purpose is to complete transfer data by CAI-(Common Air Interface). Users need to provide target mobile radio ID and transmitted files.
GPS Location
GPS Location is an application based on DMR API. It provides a quick way for users to acquire GPS information of certain radios and displays the information visually. GPS Location connects to radio network via repeaters or mobile radios to realize GPS query and real-time GPS configuration. Also, it can visually display the GPS query results, real-time GPS information, Quick GPS information and emergency GPS information.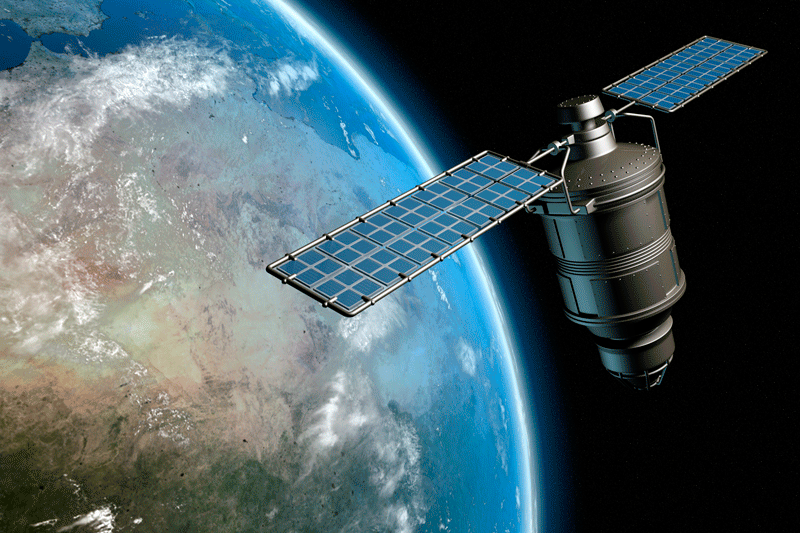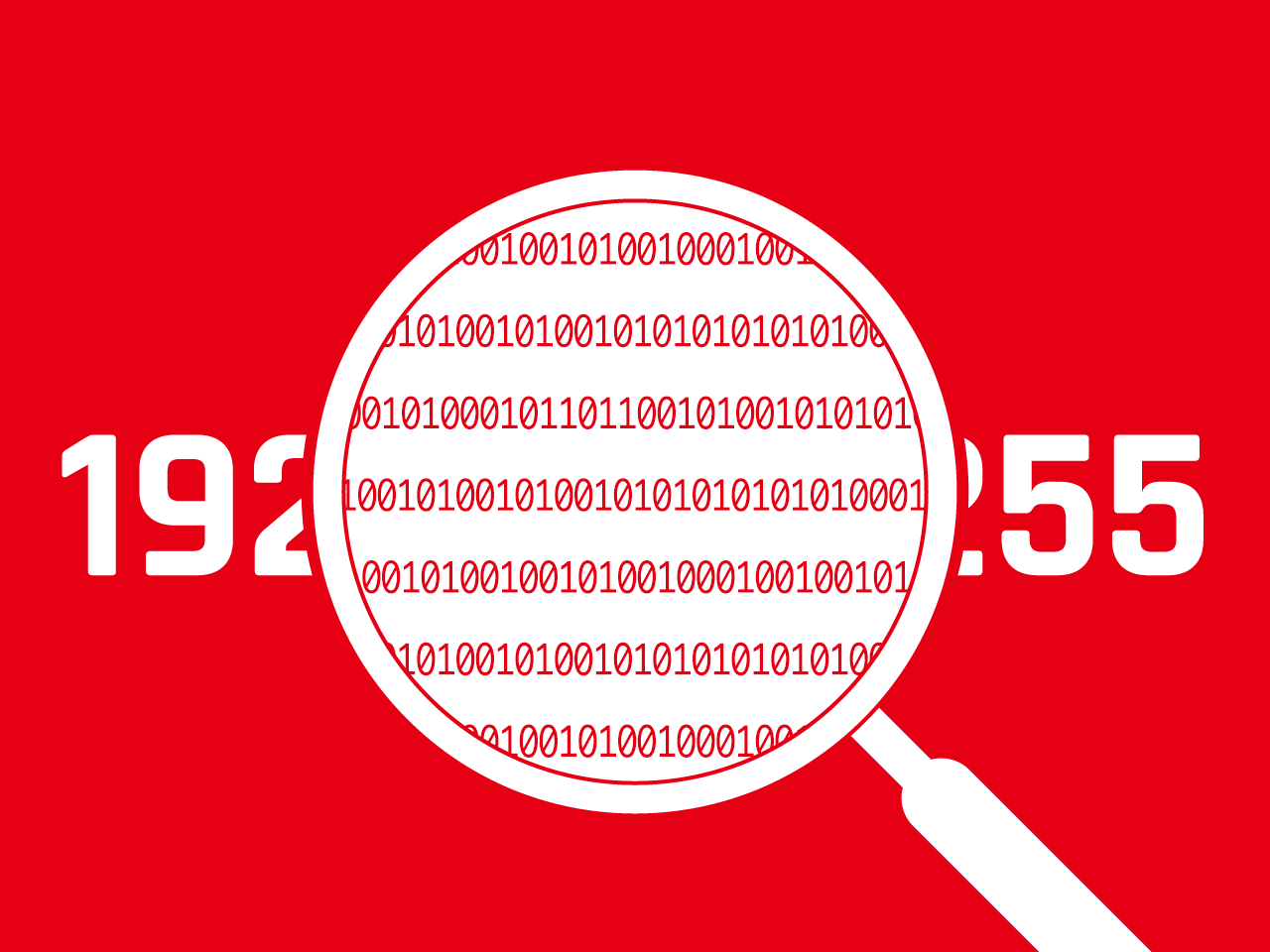 IP Dispatch
IP Dispatch is an application based on DMR API, which support text & voice messages with terminals. It mainly faces to customers that take orders as communication manner. This application guarantees time and smooth of working communication, and at the same time, it keeps professional and effective working environment.
Voice Recording
Voice Recording is an application based on DMR API, which is mainly used for certain special industries, such as security, forestry, mining industry and public security. In these industries, the dispatch station needs to know voice dispatching and communication contents on a timely basis, so as to monitor and conduct operations. In case of emergency, the dispatch station can analyze the scene situation using the voice recording, so as to take corresponding measures.